Ah, yes. The obligatory New Year resolution post.
Cos it's 2018. A new year. A fresh start.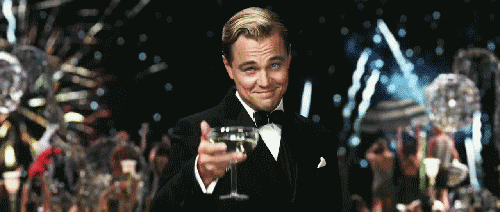 While I'm generally a 'fly-by-the-seat-of-my-pants' kind of person, there is something exhilarating about making resolutions at the beginning of the year.
For the last few years, I chose a word instead of making resolutions (which always seem to fly out the window after a few days or weeks). Thrive. Expect. Joy. Those were fun, and I liked watching God work through those words, often in ways I didn't foresee.
But I decided this year to set some goals to push me further in my writing. I've felt the need to be more intentional, and while I'm sure I will add to this list, I've got five writer-ly things I want to see done and dusted by the time 2019 rolls around.
1. Carve out a regular writing routine
Again, I am a non-routine kind of person. Especially when it comes to writing. I usually wait for inspiration to strike. But every. single. author. I've talked to has told me that I've got to write every day. Even if I don't feel like it.
Sigh.
Plus, I've got a job starting in one week with permanent hours. If I don't find some time to write (every day, even if I don't feel like it), my production is going to drop way off.
So, I'm pretty much going to have to haul myself out of bed, make gallons of some coffee, and hop on the computer.
Which leads to my next goal:
2. Cut back on social media
Yeah. This one.
I've gotten into the terrible habit of reaching for my phone first thing, checking Facebook, checking Instagram, reading emails, reading newsletter links in those emails. I mean, gosh! You guys are all so interesting!! And I love hearing about your lives and your cats and your kids. But. You're going to have to wait until my morning tea break.
3. Organise my writing space
Right now I write at the dining room table. Because my 'office' could basically be categorised as an environmental hazard. I'm not even going to post a picture of it, I'm so embarrassed.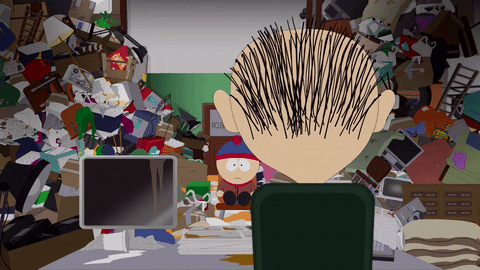 This actually looks better than my office.
So, uh huh. There's that.
I can do it, right?!?
4. Get some professional help
No, no, no. Not because of my–ahem–mess (though I could seriously use a maid or a nuclear bomb–either will work), but because I happen to know an awesome editor/writing coach who is going to give me a hand taking my writing to the next level.
I've hired the fabulous Janeen Ippolito to give me a content review on Sparrowfall at the end of this month. Wahoo!
And I had an appointment with her today to figure out my author tagline. Yippee!
While my existing tagline is dream.write.repeat., I feel like that describes who I am, but not what kind of stories my readers can expect from me. We brainstormed and got a specific direction so watch my website for upcoming tweaks.
I joined her Facebook group a few weeks ago, and she's already poured out some valuable and helpful advice, so I can't wait to implement some fresh ideas.
All of this leads to my very last goal:
5. Sign a publishing contract OR indie publish
Yes.
By the end of 2018, I either want to have a publishing contract (in which case, it would still take another 9-10 months to get my book out there), or indie publish Sparrowfall.
There are pros and cons to both options.
But I'm going to do some serious research and figure out which is the best one for me.
Those are my goals. What about you? Any of them resonate with you? Or have you made your own? I'd love to read about them in the comments.
---
Jebraun Clifford always wanted to step through a door into an imaginary kingdom, so it's no surprise she now calls Middle Earth home. Too short to be an elf and too tall to be a Hobbit, she lives in a gorgeous town smack-dab in the centre of New Zealand's North Island filled with thermal activity, stunning lakes, and enough Redwoods to make her Californian heart swoon. Her unpublished YA fantasy, The Two Queens of Kyrie, won both the American Christian Fiction Writer's 2015 First Impressions contest and the 2016 Genesis contest. She loves coffee, tree ferns, dark chocolate, and Jesus, and harbours a secret penchant for British spelling.
Connect with her on Facebook or Instagram or sign up for her newsletter!